Chocolate has always been one of my biggest food-loves. Or treat-loves I should say. When I know there's chocolate in the house, I guarantee you it won't last long.
So when I changed my lifestyle and decided to cut out refined sugars, there was a slight problem. Now there's the 90% chocolates of course, and I do love those, even buy them regularly.
But, the best way for me to contain myself when it comes to snacking, is when I make the snacks myself
In come the vegan chocolate treats. I have tried many recipes and finally came up with this ultimate version, according to my tastebuds at least. They are simple and quick to make, almost instantly ready to eat, and even people who do eat refined sugars like them. Now that's a big win if you ask me!
So before we jump to the recipe, these snack treats are vegan so dairy free, but also refined sugar free and gluten free. Also, for a chocolate free but lemon infused version, have a look at this recipe.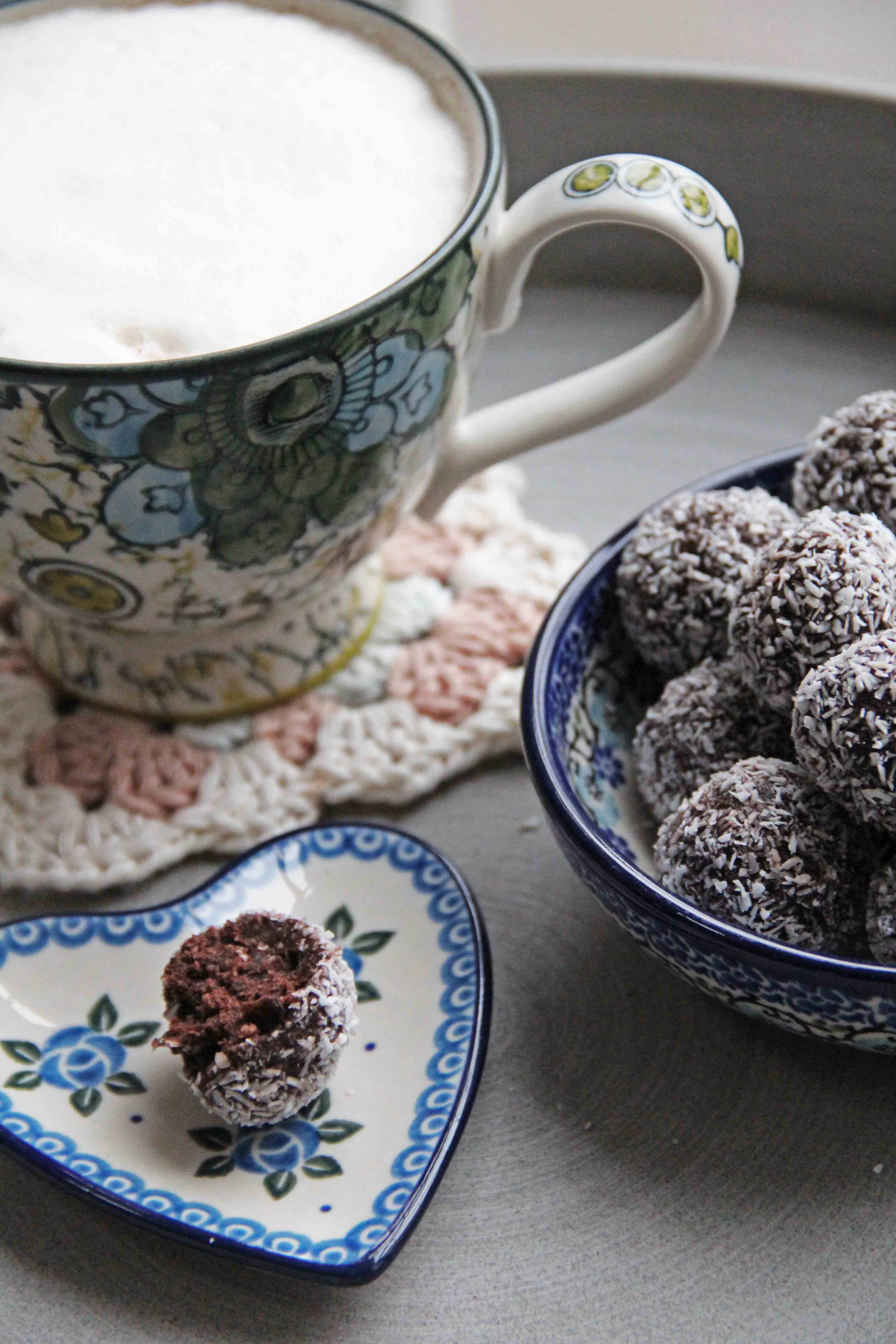 Vegan Chocolate Treats Recipe
ingredients
40 gram walnuts
40 gram almonds
15 gram pecans
50 gram raisins
3 medjoul dates
2 teaspoons vanilla
2 table spoons cocoa powder
2 table spoons coconut oil
1 table spoon of chia seeds (you can leave them out if you want to)
shredded coconut for rolling
you need a kitchen blender to crush the nuts and blend the mix
how to make the balls
Put the walnuts, almonds and pecans in the blender and ground them fully. Add the rest of the ingredients except for the shredded coconut. Grind the mixture well. Prepare two plates; one with the shredded coconut on it and one empty. Now get the mixture out, make about 15-20 balls and roll them through the coconut so they don't stick. Put them on the empty plate and set in the freezer for about 15-30 minutes. After that, take them out and store them in an airtight container in the fridge. I guess they should last for about a week, however I never checked because mine never make it for longer than a couple days… Enjoy!
xo Maaike