For my birthday I came up with this Mango Lemon Cheesecake and it turned out too good not to share the recipe with you!
I wanted this cake to be simple, so I used this lemon snack recipe for the base. For the cheesecake layer I took a simple vegan cashew nut topping and adjusted it by mixing in an entire fresh mango. The blueberries on top are just for decoration; you could add any fruit to your liking or leave it bare. Have fun experimenting with your own version of this delicious cake, yet free of refined sugar, dairy and gluten!
Mango Lemon Cheesecake Recipe
for the base – ingredients
90 gram almonds
25 gram raisins
20 gram shredded coconut
1 table spoon of fresh lemon juice
grated zest of 1/4 lemon
1 table spoon coconut oil
1 table spoon of chia seeds (optional)
2 medjool dates
you need a food processor to process the nuts and blend the mix and a small round cake dish of about 16cm.
how to make the base
Put all ingredients, except for the dates, in the food processor and process them fully. Add the dates and mix again. Line a round cake dish with parchment paper and flatten the mixture out on the bottom with your hands. Put in the freezer to set while you make the topping.
for the topping – ingredients
120 gram cashews (kept in water for at least 6 hours or overnight)
one ripe mango – about 150 grams
5 table spoons maple syrup
120 ml coconut milk (from a can, I used Fairtrade Original Biologisch)
50 gram coconut oil
1 teaspoon of vanilla powder – optional
blueberries for decoration – optional
you need a food processor to process the nuts and blend the mix
how to make the topping
Drain the cashews and process them fully in the machine. Add the other ingredients except for the blueberries and process again. Really mix it all very well. Pour the mixture over the base, decorate with blueberries or other fruits and let set in the freezer for a couple hours, or overnight. After that you can keep the cake in the fridge for a couple days. I am excited to hear what you think of this recipe! I am thinking to make a pink one with red fruits like raspberries or strawberries soon too…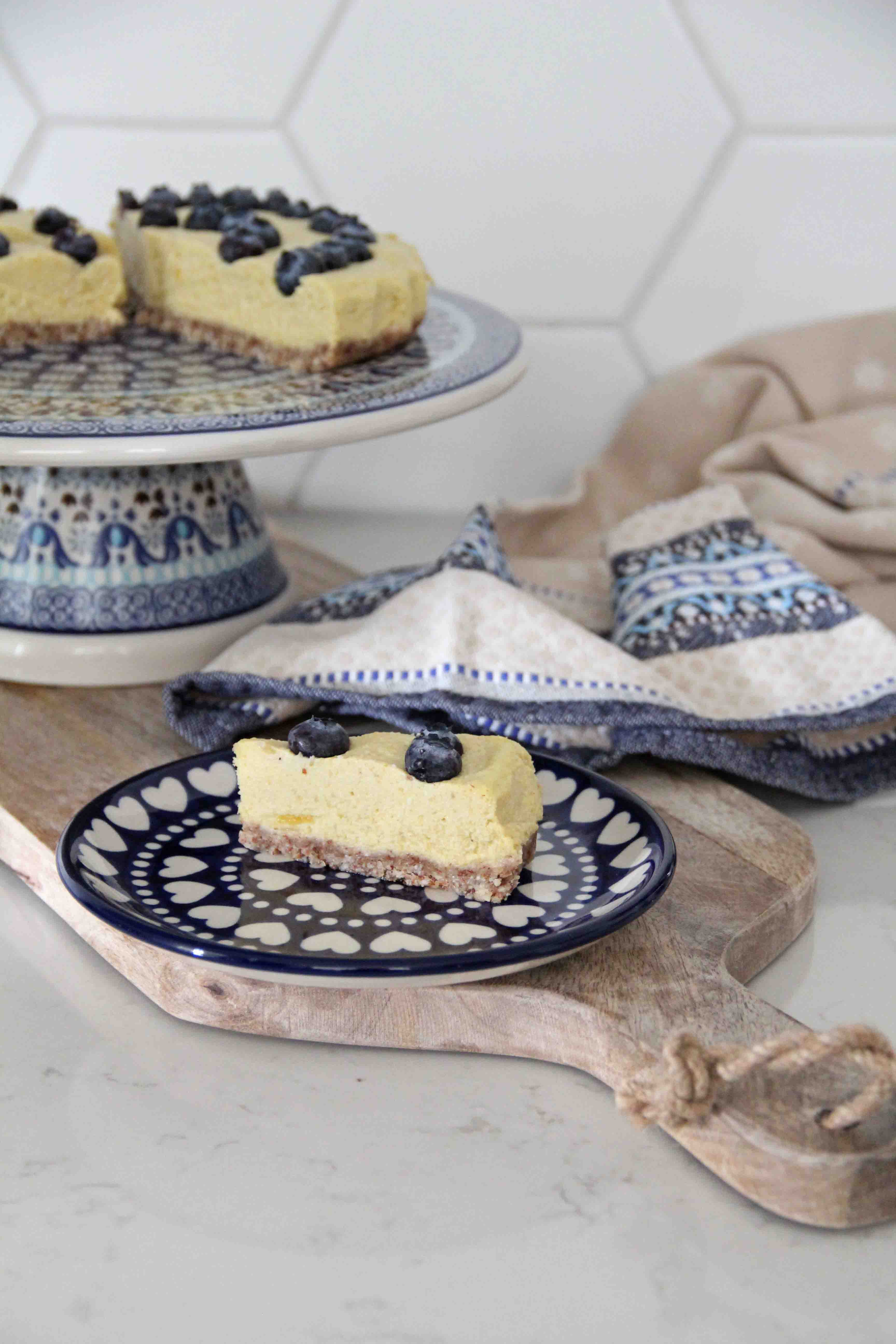 xo Maaike