After seeing this beautiful and stylish Advent calendar at Minke's Instagram account, I knew I would be making one for my own kids one day. And when she posted this year's version, I simply couldn't hold myself back anymore.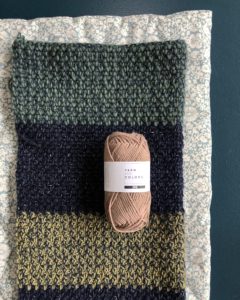 So I took what I found suitable yarns from my stash and started crocheting. Minke was very enthusiastic right away and we chatted away about the details. Since she has no blog, we will be using my blog to share the pattern, tips and tricks with you! Because seriously, who would not want such a fab calendar for the most exciting and magical month of the year?!
However, my stash seems to be oriented towards fine wool, not cotton or chunky yarn. So I ended up making stripes with different yarn qualities. The result is nice, I mean I like the structures and colours, but the sides are far from even. A border is no option, which means this piece of fabric will become a pillow cover or something else, but not a calendar.
What I did find out, is that the Durable Macramé yarn is excellent for the backing of a calendar. Sturdy, a beautiful matte and structured look, just the way I like it. Logically, I ordered more of the Macramé yarn and started a second one in navy blue, colour 321. I am thinking 2 or may be even 3 colours for the pockets, what do you think? May be fringes along the bottom in the same colour as the pockets…
These simple rows of stitches are the perfect make for me, this magical but busy time of the year. Tomorrow Hugo will be one year old and I am feeling all the feels; thinking back to that last week in the hospital before he arrived, the first moments with him… And now he is crawling, laughing, eating, standing, and probably in a couple months he will be walking and starting to talk. Oh time, you are a thief really.
Wishing you a lovely weekend and for the Dutchies; enjoy the arrival of Sinterklaas!
xo Maaike