Being diabetic Type 1 and aiming for a healthy lifestyle, it took me a couple of months to find out what worked for me regarding breakfast and lunch; read more about the latter in this post. But picking the right snacks is still something I am working on. Of course there is fruit and crackers, but together with my tea or latte I prefer something chocolate or sweet. Usually that comes with lots of sugars; sugars I have to give myself extra insulin shots for. And I prefer to keep away from those. So I am always looking for new things to make that tick all the boxes; delicious, a real treat, and low carbs.
And then we had this bowl in our kitchen with mixed nuts left over from evening drinks. And it was just sitting there, no one ate it. I decided to mix the nuts with chocolate and make little snacks of them, for myself and possible guests. Because you can keep these treats in the freezer, so you can make them in advance and pop them out any time someone comes over! It's getting better and better, right? Now let's have a look at the recipe, if you can even call it that. They are so simple and quick to make!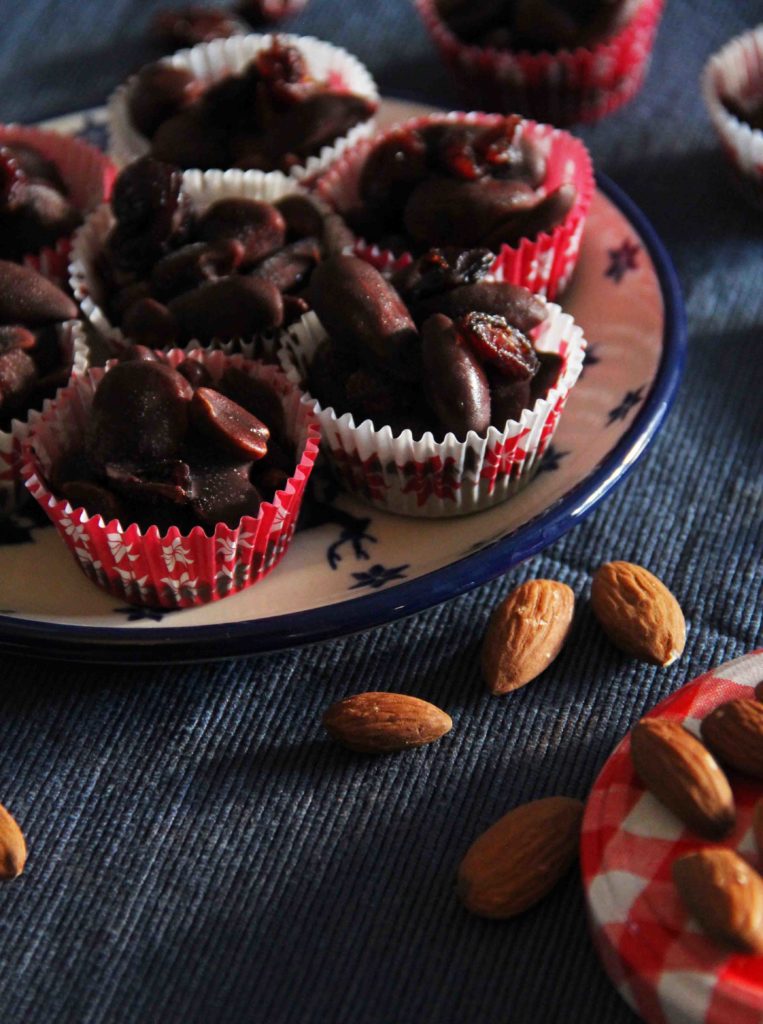 RECIPE: Chocolate snack with mixed nuts
ingredients
100 grams of dark chocolate; 75% or higher. my favourites are Godiva 90% and AH Uganda 80%
teaspoon of coconut oil
2-3 hands of mixed nuts; almonds, peanuts, macadamia nuts etc
some dried cranberries to taste
you also need a tin for medium sized cupcakes and matching cupcake liners – mine are IKEA Christmas collection from years ago
directions
melt the chocolate with the coconut oil au bain Marie
stir in the nuts, make sure they are all covered in chocolate, and stir in some more if needed
use a table spoon to fill the cupcake liners and add one or two cranberries on top
let cool off in the freezer, keep them in an air tight container in the freezer for 2-3 weeks and get them out 15 min before serving. You can keep them in the fridge for 2-3 days.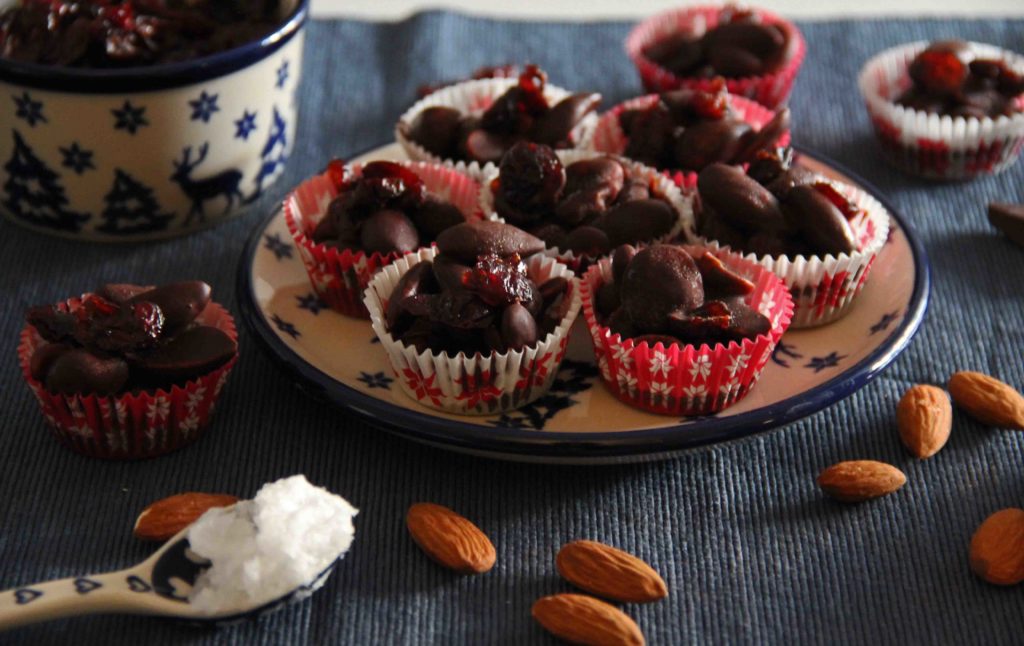 This post is getting a total Christmas vibe, no? I love it haha, however these treats can go all year around of course. I made them bite-size to control my carbohydrate intake and snack cravings haha, but I can imagine this would also make a perfect giant chocolate-nut chunky thing, just layer the mixture on a baking tray lined with baking paper. Once it cooled off you can break it into large chunks for everyone to grab, after dinner for example. If you are not watching your carbohydrates as closely; any milk or white chocolate can work too! No need to add the coconut oil then.
Possibilities are endless… Enjoy! xo Maaike